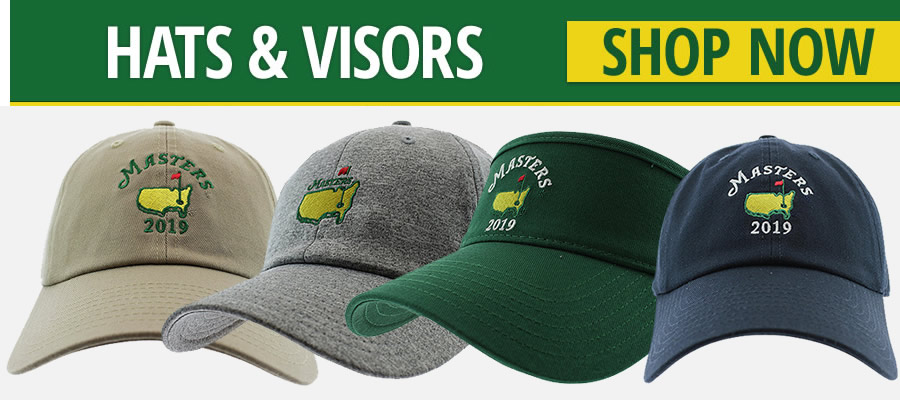 When you have been personal shopping for thousands of golf fans for over a decade, you learn what these enthusiasts like and dislike. Our staff has scanned each and every hat inside the Pro Shop to create a handy top-five list for you to reference when shopping MMOGolf.com. To classify as a top seller, a Masters hat must either boast great tradition or extraordinary flair.
5. 2019 Masters Breaker Blue Small Logo Dated Caddy Hat
When Augusta National's Pro Shop introduces a new color, patrons go a little nutty. The Pro Shop annually features navy, green, white and khaki dated slouch hats. Breaker Blue makes its debut in 2019. This pale blue hue is a great mix of light blue and navy. Breaker blue hats are already completely sold out inside the Pro Shops. Luckily MMOGolf.com has them in stock shipping daily.
4. 2019 Dated Masters Green Caddy Hat
The small logo caddy is an absolute staple of The Masters Tournament. Many patrons only get a chance to make it inside the ground once in a lifetime. You better believe they are going to get a dated memento from their visit to golf's favorite course. The undated green caddy is the most notable cap from The Masters but for those who are lucky enough to go, the dated version holds more value. The 2019 Masters Hat will again be a best seller.
3. Masters Green Performance Tech Structured Trucker Hat
Add one part Trucker Hat & one part Performance Hat and you will get this brand new Masters Structured Trucker Hat. This hat is the best of both worlds with the trucker style and the comfort and durability of Performance Tech. The front of this cap reads "MASTERS", the only hat inside Augusta National's Pro Shop with this style. The iconic Masters logo embroidered into the mesh on the left side of the cap.
2. Masters Green & White Perforated Performance Tech Hat
Masters Green & White Perforated Performance Tech Hat is new to the Pro Shops in '19. The two-tone hats have sold very well in their first year, especially with the perforated back to the hat. The cap is adjustable and comfortable. A lot of new age golfers have been using this style of hat on Tour. The main difference between this hat and all the others is the back of the cap, this is the only cap inside the Pro Shop with a very bold, modern pattern.
1. Masters Green Performance Tech Hybrid Hat
It's okay to spoil yourself sometimes. This is the time, and this is the hat to get. This Masters Green Performance Tech Hybrid Hat is a new style of tech hat for 2019. We guarantee this hat will fit better than previous years. This hat has more structure and will be propped up ideally on your head. A lightweight fabric will keep you cool on the course and cool in the sense of, well this is a stylish hat. The popular green reflective hat has sold out. A lot of golf fans will flock to the hybrid style now.